Maples Cottage-2 Bedroom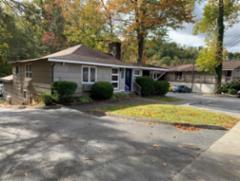 Room Description
The Maples Cottage is a 2 bedroom , 1 bath  cottage built in the 1950s circa,  This Cottage will accommodate of to a Maximum of 4 People.  .
 Due to the High demand of this Cottage Booking requires the Reservation Balance to paid in full at the time of booking. Cancellations must be made 7 days in advance of the arrival date to receive a refund.
* (not pet friendly)
Room Amenities
Free Parking
Free Wifi
Kitchen Kitchenette
Non Smoking
Outdoor Deck
BBQ Facilities
View More Room Types
Terms & Conditions
Guarantee Policy
All reservations require a valid Credit Card to reserve. The full amount will be charged to the credit card on file on the morning of your arrival. Should the card be declined the reservation will be cancelled at that time.
Cancellation Policy
Cancellations must be made 72 hours (3 days prior) to arrival date to avoid a late cancellation fee equal to 1 night(s) room + tax
Check-in / out Policy
Check In: 3:00 PM
Check Out: 11:00 AM

• Early arrival or late checkout are requests and are not guaranteed.
• Guest must be age 21 or older to reserve and/or pay for guestroom.
• Smoking allowed in permitted areas only. Any smoking in non-permitted areas including guestroom balconies, will result in a $150.00 fee.
• Any unauthorized pet (service animals are excluded), will result in a $150.00 fee, respectively.
Pet Policy
All Rooms are not pet-friendly, we do offer dog-friendly rooms in our court side building only. You must call the property direct to reserve pet friendly rooms.
No cats or exotic animals allowed

Guests are allowed to bring a maximum of  2 Dogs under 35lbs.
Guests must sign a pet waiver at check-in.  Please do not bring your dog if you are unwilling to sign the waiver.
A non-refundable pet fee of $25.00 plus 12.75% tax per night, per dog will apply.

 

Dog owners agree to not leave their dog unattended during their stay at the hotel unless crated. 

If you leave your pet unattended, a contact # must be left on file at the front desk so that we may contact you if needed.

 

Dogs are not permitted in any of the food and beverage areas, lobby, or at the pools. This exclusion does not apply to guide dogs.

Dogs must always be on a leash. City of Gatlinburg ordinances states that all dogs must be on a leash at all times.
Dog owner will be fully responsible for any damage or caused by their pets.
Owners must pick up after their dogs If observed not doing so  a $150.00 clean up fee will be added to their room account.

Guests who choose to not register their dog and occupy a room will be charged a $150.00 cleaning.