Casa Tomilho Studio-Estúdio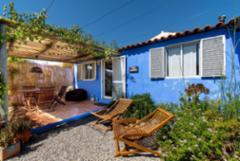 Room Description
Estúdio
Sala de estar / quarto composto por uma área de dormir com uma cama de casal e uma cama individual e uma área de estar com 2 poltronas; Cozinha equipada com frigorífico, placa de indução, microondas, torradeira, máquina Nespresso, varinha mágica, máquina de lavar louça; Casa de banho com WC e chuveiro; Secador de cabelo; Ar condicionado; Pátio de frente para o oeste, com sombra, mesa, cadeiras exteriores.
Este quarto não pode acomodar camas extra.
Living room/bedroom consisting on a sleeping area with a double bed and a single bed and a living area with 2 armchairs; Kitchen equipped with fridge, induction plate, microwave, toaster, Nespresso machine, dishwasher, mixer; Bathroom with WC and shower; Hair Dryer; Air conditioning; Courtyard facing west with shadow, table, exterior chairs.
This room cannot accommodate extra beds.
Room Amenities
Bathrooms
Kitchenette
Kids Activities
Food Available
Farm Ranch
Activities Young Children
Free Parking
Free Wifi
Pets Allowed
BBQ Facilities
View More Room Types
Terms & Conditions
Condições de reserva, pagamento e politica de cancelamentos
1 - Flexível - 30 dias
O cliente deverá pagar com antecedência o valor total da reserva a qualquer momento;
O cliente pode cancelar gratuitamente até 30 dias antes da chegada;
O cliente deverá pagar o valor total da reserva se cancelar a menos de 30 dias da data de chegada;
Os cancelamentos deverão ser feitos por Email. 

Não aceitamos cancelamentos por telefone;
O cliente deverá pagar com antecedência o valor total da reserva a qualquer momento;
O cliente deverá pagar o valor total da reserva se cancelar a qualquer momento.
Os cancelamentos deverão ser feitos por Email. 

Não aceitamos cancelamentos por telefone;
Reservation, payment conditions and cancellation policies
1 - Parcial Refund - 30 days
The guest will be charged a prepayment of the total price of the reservation anytime;
The guest can cancel free of charge until 30 days before arrival; 
The guest will be charged the total price of the reservation if they cancel in the 30 days before arrival;
In case of no show, the guest will have to pay the full amount;
Cancelations must be made by email. We do not accept cancelations over the phone;
2 - Non-Refundable
The guest will be charged a prepayment of the total price of the reservation anytime;
The guest will be charged the total price of the reservation if they cancel anytime;
In case of no show, the guest will have to pay the full amount;
Cancelations must be made by email. We do not accept cancelations over the phone;
Condiciones de reserva, pago y política de cancelación
El cliente tendrá que pagar por adelantado el precio total de la reserva en cualquier momento;
El cliente puede cancelar la reserva de forma gratuita hasta 30 días antes de la fecha de llegada;
El cliente tendrá que pagar el precio total de la reserva si cancela durante los 30 días antes de la fecha de llegada;
En caso de no presentarse (NO-SHOW), el cliente deberá pagar el importe total;
Las cancelaciones deben hacerse por correo electrónico. No aceptamos cancelaciones por teléfono;
El cliente tendrá que pagar por adelantado el precio total de la reserva en cualquier momento;
El cliente tendrá que pagar el precio total de la reserva si cancela en cualquier momento;
En caso de no presentarse (NO-SHOW), el cliente deberá pagar el importe total;
Las cancelaciones deben hacerse por correo electrónico. No aceptamos cancelaciones por teléfono;