1 Bed/Bath Apartment-Hummingbird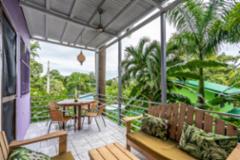 Apartment Description
This one bedroom apartment features a queen size bed and sleeper sofa, and a fully equipped kitchen, private bathroom with hot water.  The unit has a large patio overlooking the rain forest garden where you can see monkey, toucans, and local flora and fauna.  This unit is located 6 minutes to the beach and is located with walking distance to a local grocery store and many reasonably priced restaurants.  All units include daily housekeeping services.
Apartment Amenities
Apartments
Bathrooms
Beach
Extended Stay
Economy
Credit Cards Accepted
Family Rooms
Free Wifi
Free Parking
Free Internet
Kitchen Kitchenette
Non Smoking
Pets Allowed
Private Bath
Air Conditioning
View More Apartment Types
Terms & Conditions

Cancellations must be made by writing an email or fax. We do not accept cancellations by phone.
Cancellations made 14 days prior the date you arrive will be refunded 100% of your deposit.
Cancellations made by 14 days or less, will not receive any refund.
Please,be aware that if you cancelled a reservation paid with credit card, we will be charging a 3.5% banks fees for the total amount for your authorized deposit.