Bokor Apartment (Annex)-Two Bedroom (1st floor)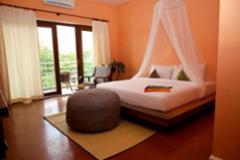 Apartment Description
Beautifully appointed apartments located directly on the riverside and 2 minutes walk to the beachfront.
Each apartment has a private bathroom with bath and shower and a large living space with views over the riverside.
Sailing, Kayaks and swimming pool are all inclusive in this quiet and well located region of the lovely Otres Beach 2.
Apartment Amenities
Activities Older Children
All Inclusive
All Suites
Apartments
Bathrooms
Bed And Breakfast
Credit Cards Accepted
Dry Cleaning
Early Arrival
Extended Stay
Family Rooms
Free Breakfast
Free Internet
Free Parking
Free Wifi
Kitchenette
Late Arrival
Late Check Out
Non Smoking
Parking Available
Private Bath
Resort
Room Service
Room With A View
Shuttle
Suites
Swimming Pool
En-Suite
Air Conditioning
Ceiling Fan
High Ceiling
Laundry
Outdoor Deck
Privacy
Fishing
Horse Riding
BBQ Facilities
View More Apartment Types
Terms & Conditions
If cancelled or modified up to 7 days before date of arrival, no fee will be charged. If cancelled or modified later or in case of no-show, the total price of the reservation will be charged.