AAA Rate Penthouse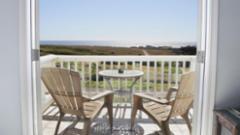 Room Description
The Penthouse does not accept animals.  The Penthouse suite is one of the most outstanding accommodations in the Village.  Ocean & Headlands State Park Views, Two Person Jetted Bathtub, Steam Shower, California King Bed, Three Sided Fireplace, and Dining Area overlooking the Sea.
The room also includes Wetbar with Refrigerator, Microwave, Coffee Maker.  There is a Cable TV, Blu-ray and stereo as well.  Free telephone and Free Wi-Fi also included.  For very special celebrations and private time together pick the Penthouse.
View More Room Types
Terms & Conditions
$25.00 fee per stay per Animal.  ***Please review Pet Policy that will be sent to you.
Penthouse and Special Occasion are Non-Pet rooms.
Non-Smoking in the rooms or on the grounds.
Two day minimum for Saturday stays.
Major Holiday periods generally require three-night minimum with a Saturday stay.
Seven Day Cancellation Policy.
For your ultimate Privacy we will not be entering your room during your stay.
Checkout time is 11:00 AM.
To keep COVID19 from spreading in Mendocino County, I promise to: 
●
 wear a mask whenever indoors with other people and whenever encountering other people outdoors 
●
 frequently wash or sanitize my hands especially when entering and exiting a building, shop, gallery, grocery store or any indoor space 
●
 practice social distancing, keeping 6 ft between me and others 
●
 stay home if I feel sick, have flu-like symptoms such as cough, fever, or trouble breathing 
●
 you may be asked to move to another room or depart our inn if we need your room for "COVID-19 response". If needed, we will assist in finding another room close by. 
●
 I understand that if I become sick or test positive for COVID-19 during my visit to Mendocino County, the county will require me to self-isolate in my hotel room for a period of fourteen days at our regular nightly rate. Furthermore, if I am traveling with family members who are not sick, they will need to occupy an additional room, for the same duration, at our regular nightly rate.