Cottage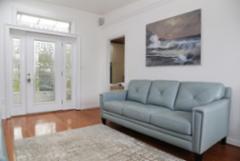 Room Description
Cottage for the utmost in Privacy.  A Stand Alone accommodation which has a "full" kitchen which gives one the luxury of just relaxing and not having to go out.  Outstanding Bath area with Jacuzzi Tub for Two, walk-in shower,and fireplace.
There is a California King Bed that views the raised Fireplace.  There is a private deck with view across the Headlands State Park to the Ocean.  The room has a Cable TV, Blu-ray, and Stereo.  The Cottage has Free Phone and Free Wi-Fi.  This accommodation is Dog friendly so Pooch can enjoy your stay too.
View More Room Types
Terms & Conditions
$25.00 fee per stay per Animal.  ***Please review Pet Policy that will be sent to you.
Penthouse and Special Occasion are Non-Pet rooms.
Non-Smoking in the rooms or on the grounds.
Two day minimum for Saturday stays.
Major Holiday periods generally require three-night minimum with a Saturday stay.
Seven Day Cancellation Policy.
For your ultimate Privacy we will not be entering your room during your stay.
Checkout time is 11:00 AM.
To keep COVID19 from spreading in Mendocino County, I promise to: 
●
 wear a mask whenever indoors with other people and whenever encountering other people outdoors 
●
 frequently wash or sanitize my hands especially when entering and exiting a building, shop, gallery, grocery store or any indoor space 
●
 practice social distancing, keeping 6 ft between me and others 
●
 stay home if I feel sick, have flu-like symptoms such as cough, fever, or trouble breathing 
●
 you may be asked to move to another room or depart our inn if we need your room for "COVID-19 response". If needed, we will assist in finding another room close by. 
●
 I understand that if I become sick or test positive for COVID-19 during my visit to Mendocino County, the county will require me to self-isolate in my hotel room for a period of fourteen days at our regular nightly rate. Furthermore, if I am traveling with family members who are not sick, they will need to occupy an additional room, for the same duration, at our regular nightly rate.