Suit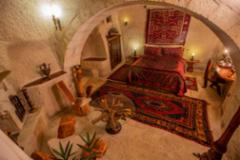 Room Description
Bu geniş süitte ayrı oturma odası ve şömine bulunmaktadır. Ayrıca, küvetli büyük bir banyo da vardır. 
Bu süite ilave yatak konulamaz.
Oda özellikleri:Veranda/Avlu , Bahçe Manzarası , Ütü Olanakları ,Oturma Alanı , Isıtma, Halı Kaplı Zemin, Özel Giriş , Karo/Mermer Zemin, Duş, Saç Kurutma Makinesi, Spa Küveti , Ücretsiz Banyo Malzemeleri , Tuvalet, Banyo, Terlik, Elektrikli Su Isıtıcısı , Açık havada yemek alanı , Uyandırma Servisi
Tüm odalarda ücretsiz WiFi mevcuttur.
Oda Büyüklüğü: 25 m²
끉
Yatak:
1 ekstra büyük çift kişilik yatak
View More Room Types
Terms & Conditions
RATES AND DEPOSIT

We will keep your credit card details for our cancellation policy. We will not charge any amount to your credit card. You can pay on check-out. If you would like to pay with cash, we will offer 10% discount on the room rate. The official taxes are already included in the rate.

CHECK-IN AND CHECK-OUT TIME 

Check-in time is from 12:00 and check-out time is by 11:00am.
A valid government-issued identification or passport is required at check-in.

CANCELLATION POLICY

If you cancel 7 days before check-in date, there is no cancellation fee.
If you cancel within 7 days to 48 hours , there will be a cancellation penalty of 50% of the total accommodation.
If you cancel between 48 hours to 24 hours, the full amount of the hotel will be charged.
There will not be any refunds on "no shows" for the hotel accommodations.