Reading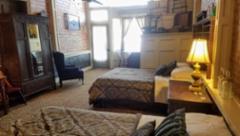 Room Description
The Reading room is located in an annex building next to the original hotel and has a private entrance onto Main Street. There are 2 queen beds and private bath with clawfoot bathtub. The Reading room shares the annex building with the New Orleans room, and the two can be joined if booked together. 
View More Room Types
Terms & Conditions
No deposit will be charged when making a reservation, but we must have a valid credit card or debit card on file to hold the room. Payment is due at check in. 
There is no fee for canceling an individual reservation at least 1 week before your date of arrival. If you cancel within a week of your arrival date, you will be charged for the first night of your reservation as a cancellation fee. Group reservations must be cancelled at least 21 days in advance of the arrival date to avoid the cancellation fee of the first nights charge.