Suite Double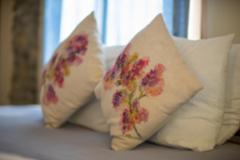 Room Description
Rooms with Ocean View (19.48 m2) with capacity per 2 persons. The rooms are equipped with 1 King size bed or 2 Single beds. Satellite TV, Lockers, Mini-Refrigerator, A/C; and decorated with hand-crafted furniture. Private bathroom with hot water, hair dryer, towels and biodegradable amenities. Terrace with table and chairs *Capacity per 2 persons only. 
Room Amenities
Non Smoking
Private Bath
Room With A View
Free Local Calls
Extended Stay
Air Conditioning
View More Room Types
Terms & Conditions
1. Room Prices: Room prices are in US Dollars. Our quoted prices INCLUDE THE 10% OF TOURIMS TAXES. Our rates not include meals. But includes the use of our sport equipment like: kayaks, surf boards, bodyboards, paddle boards & bycicle.
2. Reservations: Room reservations are subject to availability. Bookings must be done 72 hs. before the arrival to the hotel. To reserve & guarantee a room, we require a credit card (cardholder name, number & expiration date). You must be 18 years or older to rent a room. A reservation is not confirmed until the same is 100% paid.
3. Payment: Can be made by Cash, Bank Deposit (to our Current Account with Banco General: #03-72-01-103794-5, on behalf of Hotel Playa Reina, S. A.), or Credit Card (Visa or MasterCard only).
4. Children: Children ages 0 to 6 years of age stay free of charge. Children ages 7 and Up count as adults for room rate purposes.
5. Check-In: At 3:00 pm If you plan to check-in after 7:00 p.m., please notify us so we do not cancel your reservation. We require presentation of ID/Passport in order to assure the safety of all guests.
6. Check-Out: At 12:00 noon. An extra night will be charged, if you don't left the room at the time of Check-Out. This does not mean you can keep the room as it depends on availability of the hotel.
7. Damage to Property: If any room items are stolen or if any damage to the property is found to be caused by the renter of the room, the renter will be charged with the full costs for repairing the damages or replacing any missing room items.
8. Business Operation Schedule: Our administrator and sub-administrator work from 7:00 am to 7:00 pm.
9. Personal Property: The hotel will not take responsibility for any lost personal items. All rooms are equipped with security lockers, and all personal items should be stored in the security locker. Needless to say, we have never had any issues with security at our hotel, and your belongings are very safe.
10. Guests: No third party guests are permitted in the rooms for the safety and protection of our customers.
11. Social Areas: Our social areas are open from 7am till 10pm per day for all our guests to enjoy. The Schedule to use the Pool is till 10pm.
12. Bar/Restaurant: Our bar/restaurant, A la Mar, offers breakfast, lunch, and dinner. The restaurant opens at 7:30 am till 11:00 pm, and is closed on Tuesdays.
13. Laundry: Bed linens, pillow covers and blankets are changed daily free of charge (included in the room rate). Any personal clothing items that require laundry may be washed for a fee of US$7.00 per load, which must be paid at the reception office.
14. Internet Service: We offer Free Wi-Fi Internet services only at our restaurant. The internet service in Hotel Playa Reina is provided by the cellular phone company called MasMovil (Cable & Wireless) as well as Claro and MoviStar (Telefonica), and the internet browsing speed ranges from 2G to 3G, however, speeds may vary or be even slower than that depending on the volume of customers on the network at the time of use.
15. Group Reservations: If you are interested in a group reservation, we can offer special room rates, transport and meal packages. Our hotel currently has capacity for up to 20 people (8 Double Rooms).. 16. Smoking: Absolutely NO smoking is permitted inside of our rooms. If you smoke on our property, you must not litter our property with cigarette butts (please deposit your extinguished butts in the trash cans).
17. Drugs: Absolutely no illegal drugs are permitted in our property.