Tarihi Suit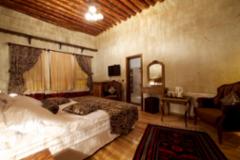 Room Description
Muhteşem manzarası ve dekorasyonu ile köşk rahatlığında ve konforunda konuklarımızı ağırladığımız özel odamızdır. Odanın içinde sedir bulunmaktadır.sedir oturmak için düzenlenmiş ahşap veya taştan yapılardır. Ayrıca bu odanın yanında "divanhane" adını verdiğimiz, konuklarımızın hoş sohbetlerine ev sahipliği yapan bir alan bulunmaktadır.
Room Amenities
LCD Ekran Tv
Dijital uydu yayını
Telefon
Minibar
Dijital kasa
Kettle ve çay/kahve ikram
Saç kurutma makinası -Ort
Koltuk takımı
Buklet malzemeleri
Dolap
Beşik (İsteğe Bağlı)
Klima
Wifi internet
Bathrooms
Non Smoking
View More Room Types
Terms & Conditions

Cancellations must be made by writing an email or fax. We do not accept cancellations by phone.
Cancellations made 30 days prior you arrive receive 100% refund.
Cancellations made by 8 to 14 days prior the date you arrive will be refunded 50% of your deposit.
Cancellations made by 7 days or less, will not receive any refund.
Please,be aware that if you cancelled a reservation paid with credit card, we will be charging a 3.5% banks fees for the total amount for your authorized deposit.