Superior Suite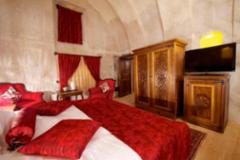 Room Description
''Tafana'' ve ''Selamlık'' isimli Tarihi Superior Suite Odalar 
Tafana Oda:"Tafana" yöreye ve civarına özgü bir kavram olup, günümüz evlerindeki mutfak ve kilere benzeyen ancak onlardan daha fonksiyonel olan, evin bir bölümüne verilen addır.Hayata açılan bir penceresi bulunur.Tafananın içinde tandır yer alır. Bu mekanlar eski dönemlerde ekmek ve yemek pişirmenin yanı sıra oturmak, ısınmak, misafir ağırlamak, yemek yemek hatta yatmak için de kullanılırmış.Eski Dönemlerde yaşlı ve çoçuklar daha çok burada yaşarlarmış Tavanı taş kemerle kaplı bu odamızda eski yaşam kültürünün izlerini ve "tafana" kavramının sıcaklığını, samimiyetini bulmanız mümkündür.
Selamlık Oda: Eski dönemlerde saray, köşk ve konaklarda erkek konukların ağırlandığı bölümlere "selamlık" denirmiş. Konağımızda da yıllarca selamlık olarak kullanılmış bu odamızın taş kemerli tavanı altında tarihi ve konforu sizler için birleştirdik.
Room Amenities
LCD Ekran Tv
Dijital uydu yayını
Telefon
Minibar
Dijital kasa
Kettle ve çay/kahve ikram
Saç kurutma makinası -Ort
Koltuk takımı
Buklet malzemeleri
Dolap
Beşik (İsteğe Bağlı)
Klima
Wifi internet
Bathrooms
Non Smoking
View More Room Types
Terms & Conditions

Cancellations must be made by writing an email or fax. We do not accept cancellations by phone.
Cancellations made 30 days prior you arrive receive 100% refund.
Cancellations made by 8 to 14 days prior the date you arrive will be refunded 50% of your deposit.
Cancellations made by 7 days or less, will not receive any refund.
Please,be aware that if you cancelled a reservation paid with credit card, we will be charging a 3.5% banks fees for the total amount for your authorized deposit.