Suite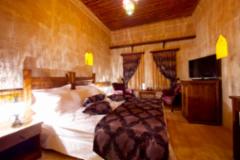 Room Description
''Toprak'' ve ''Sofa'' isimli Tarihi Suite Odalar
Toprak Oda: Konağımız ev olarak kullanıldığı dönemlerde tabanı toprak kaplı olduğu için bu kısım "toprak oda" olarak anılmaktadır.Restorasyon esnasında konuklarımızın konforu ve hijyeni açısından tabanı laminantla kaplansa da, odamız eski konforuyla konuklarını ağırlamaktadır.
Soda Oda:Yöre halkının misafirperverliğinin göstergesi olarak, evlerde gelen konukları ağırlamak için ayrılan geniş ve özel mekanlara "Sofa" adı verilirmiştir.Yaz aylarında çardakta bulunan halı tezgâhı kış aylarında buraya taşınır. Konağımızın eskiden de sofa olarak kullanılan bu odasında, bize konuk olmanın ve misafirperverliğimizin keyfine varabilirsiniz.
Room Amenities
LCD Ekran Tv
Dijital uydu yayını
Telefon
Minibar
Dijital kasa
Kettle ve çay/kahve ikram
Saç kurutma makinası -Ort
Koltuk takımı
Buklet malzemeleri
Dolap
Beşik (İsteğe Bağlı)
Klima
Wifi internet
Bathrooms
Non Smoking
double and single bed
View More Room Types
Terms & Conditions

Cancellations must be made by writing an email or fax. We do not accept cancellations by phone.
Cancellations made 30 days prior you arrive receive 100% refund.
Cancellations made by 8 to 14 days prior the date you arrive will be refunded 50% of your deposit.
Cancellations made by 7 days or less, will not receive any refund.
Please,be aware that if you cancelled a reservation paid with credit card, we will be charging a 3.5% banks fees for the total amount for your authorized deposit.