Triple Standart Room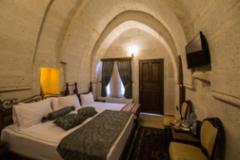 Room Description
Avlu manzaralı, tavanı taş kemerlerle kaplı tarihi odalar.
1 adet Double- 1 adet Single yatak
Room Amenities
LCD Ekran Tv
Dijital uydu yayını
Telefon
Minibar
Dijital kasa
Kettle ve çay/kahve ikram
Saç kurutma makinası -Ort
Koltuk takımı
Buklet malzemeleri
Dolap
Beşik (İsteğe Bağlı)
Klima
Wifi internet
Bathrooms
Non Smoking
double and single bed
View More Room Types
Terms & Conditions

Cancellations must be made by writing an email or fax. We do not accept cancellations by phone.
Cancellations made 30 days prior you arrive receive 100% refund.
Cancellations made by 8 to 14 days prior the date you arrive will be refunded 50% of your deposit.
Cancellations made by 7 days or less, will not receive any refund.
Please,be aware that if you cancelled a reservation paid with credit card, we will be charging a 3.5% banks fees for the total amount for your authorized deposit.