Moonraker Suite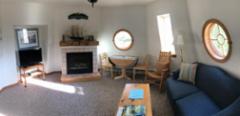 Room Description
The Moonraker Suite
 is on the second floor of the lighthouse. The outdoor stairs lead up to the room entrance. Inside there is a large air conditioned living area with a fireplace, pull-out couch, flat screen TV, DVD player, WiFi, kitchenette with refrigerator, coffee maker, microwave, and a small dining table. The large bathroom includes a whirlpool tub and walk in shower. Sloped wood-panel walls encase a queen size bed, and a sliding glass door leads out to a private balcony.
Room Amenities
Free Internet
Free Parking
Free Wifi
Credit Cards Accepted
View More Room Types
Terms & Conditions
Check-in Time
Check-in time is between 3:00 pm – 8:00 pm. If you are going to be arriving after 8:00 pm please call us in advance at (920) 421-2233 to make arrangements.
Check-out Time
Check-out time is before 11:00 am.*  Front desk availability between 11:00 am – 3:00 pm is limited
Age & ID Requirements
Guests must be at least 18 years old to rent any unit at Harbor Light Inn. Proof of age with a picture ID is required at the time of registration.
Rates
All room rates are based on double occupancy, except the Troll Cottage (4 person occupancy).  There will be a charge of $10 per night per guest for additional persons age 13 years & up..  Some dates may require a 2 or 3 night minimum stay.  Rates are subject to change without notice.  For current availability and rates, contact us by email or call us at 920-421-2233.
We accept Visa, MasterCard, Discover, and American Express.
Operated in the USA
Deposit & Cancellation Policy
Deposit Policy:  50% of the total amount is required when a reservation is made.  Your remaining balance must be paid in full at arrival. You are responsible for the full amount of your reservation. No refunds or credit will be given for early departures.
YOU ARE RESPONSIBLE FOR CHECKING THE DATES ON YOUR CONFIRMATION AND MAKING SURE IT IS CORRECT!
Deposits will be refunded less a $25 cancellation fee, if cancelled more than 14 days prior to arrival. If you do not arrive on your scheduled arrival date you will be charged for the full amount of your reservation.
Smoking Policy
All rooms are non-smoking only!
Pet Policy
Harbor Light Inn now offers a limited number of Pet Friendly Rooms.  To inquire about availability and rates for pet-friendly rooms, please call us at (920) 421-2233.  Be sure to read our Pet Policy.