Standard Room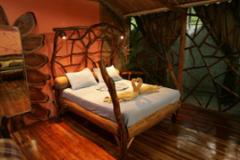 Room Description
Danta Corcovado Lodge Rooms are a delightful combination of simplicity and a splash of whimsical creativity: polished teak floors, ceiling fans, screened twisted branch windows, comfortable Surá beds with unique towering headboards, tree "cookie" mirrors and bedside tables, clean and colourful bedding and towels, and many more distinctive details.​

• Includes Breakfast
• Children rate based on children under 10 years of age, sharing room with 2 adults*
• Peak Dates: December 20th until January 2nd and Easter Week.

Room Amenities
Private Bathroom
Linen provided
Ceiling fan
Hot water shower
Sofa bed
Safe box
Non Smoking
View More Room Types
Terms & Conditions
Cancellations & Refunds
Cancellations must be made by writing by email only. We do not accept cancellations by phone.
Cancellations made 7 days prior you arrive receive 100% refund.
Cancellations made by 7 days or less, will not receive any refund.
Please,be aware that if you cancelled a reservation paid with credit card, we will be charging a 3.5% banks fees for the total amount for your authorized deposit.
Refunds in Costa Rica will be made through to your saving account.
Refunds outside of Costa Rica will be made through PayPal only.
Prepayment: The total price of the reservation may be charged 7 days before your arrival.