Room #3 & 4, The Garden Suite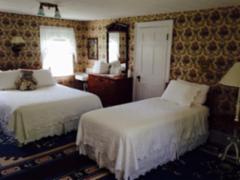 Room Description
The Garden Suite comfortably sleeps up to five people.  This suite has 1 private bath with tub and shower.  Room 3 off the Suite has 1 queen size bed and 1 full size bed (Sleeps up to three);  Room 4 in the Suite has 1 queen size bed (sleeps 2). This suite is spacious with cozy furnishings, old wood flooring with several oriental style rugs placed throughout to define the space and warm the feet.  Comfortable wing-back and arm rest chairs  and a separate  lounge room for quite time.  Views include garden, the woods and mountain with sunset.  Free Wi-Fi refrigerator and a hot complimentary breakfast awaits you each morning.
Room Amenities
Free Breakfast
Bed And Breakfast
Queen Bed
Private Bath
Free Wifi
Closet
Dresser
Comfortable Seating area
Free Internet
Free Parking
Parking Available
Non Smoking
Restaurant
Room With A View
View More Room Types
Terms & Conditions
Check-in and Checking Out
Check-in time is at or after 3 pm.  Early check-in is based upon availability.
Check-out time is by 11 pm.  Vehicles and luggage may be left at the parlor area beyond check-out time based on storage space and parking availability.
**Arrangements must be made in advance for alternate times.
Payment Policy
We are unable to hold a room without a deposit.  A fifty percent deposit will be charged at the time of booking, if booking 30 days or more prior to your arrival date. Full payment for your accommodation will be charged at the time of booking, if you book 29 days or less prior to the date you arrive. Full payment will be charged for all short stays of 1-2 nights regardless of the time booked.    The Center Lovell Inn accepts Visa, MasterCard, American Express, Discover and Cash as forms of payment. Sorry, we don't accept personal checks.  As a condition of your reservation and immediately upon processing your deposit, you and your party agree that your credit card on file or another credit card acceptable to Center Lovell Inn will be immediately charged at the time of cancellation for the balance of your stay according the our Cancellation policy listed below.
Maine Sales Taxes 
All accommodations, food, beverage, product or services purchased are subject to a Maine State Sales Tax of  9% that will be added to your bill.
Cancellation Policy
For cancellation pertaining to room buy out, please refer to our Room Buy-Out policy below. 
All cancellation and or/change requests must be made in writing via email to contact@centerlovellinn.co. We do not accept cancellations by phone.
Cancellations made 30 days prior to arrival date for the months – November thru June –  receive a full refund of your deposit, less a $30.00 administrative fee.
Cancellations made 30 days prior to arrival date for the months – July thru October – will be refunded less 25%.
Cancellations made 15 to 29 days prior to arrival date will be refunded less 30%.
Cancellations made 8 to 14 days prior to arrival date will be refunded less 50%.
Cancellations made 7 days or less, will not receive any refund.
There are no refunds for "no shows" and early departures.

FOR ALL RESERVATIONS MADE FOR FRYEBURG FAIR WEEK: THERE ARE NO MODIFICATIONS, NO CANCELLATIONS, AND NO REFUNDS.
We would like to kindly inform our guests that these rules mentioned are applied even in cases where the reason for the cancellation or change is beyond the control of the guest.  For this reason, we strongly suggest our guest consider taking out travel insurance.
Buy-Out Policy
Our buy-out agreement include:
Locking into current standing rates and removing the rooms from available inventory and holding the desired rooms solely for the Host.
Complimentary hot breakfast, and 24×7 coffee, and tea.
General coordination with Host for reservation management of rooming assignment list,  facilitation of some pre-check in details including Welcome Gift Bags drop off in rooms are also included.
The Host will be required to provide Center Lovell Inn with a rooming list assignment for all individual guests at least 14 days prior to check in.  This list must include the complete names, physical address, phone number and email address of each guests along with their room assignment.    Guests will need to confirm  their reservations and pay for their assigned room at least 14 days prior to check in.   Notwithstanding the foregoing, ultimately, the Host will be responsible for paying the difference between the total cost of rooms purchased ('buy-out'), and the unpaid balance.  In other words, the Host will be financially responsible for any unsold rooms. Therefore, Center Lovell Inn encourages the Host to direct guests to contact the Center Lovell Inn as soon as possible to pay for rooms.
Restrictions do apply: 
During weekends in July through October, the Center Lovell allows partial or complete buyouts with a minimum stay of two nights, with some exceptions.
Room buy-outs  excludes use of the Restaurant facilities, which includes the commercial kitchen, inside dining rooms and outside wrap around restaurant dining area.  The property may allow access to outside guests to restaurant, and public areas.  Additional on premise exclusive banquette catering  services can be purchased with advanced notice.
 For guests renting an entire house (Main House, and / or Carriage House), a $75  cleaning fee will be added to the final bill.
Room Type and Maximum Occupancy Rate
Main House
Room 1.  1 king bed.  Private full bathroom.  Second floor. Sleeps 2.
Room 2.  1 queen bed.   Private full bathroom.  Second floor.  Sleeps 2.
Room 3-4, Suite.  Room 3. 1 queen bed.  1 twin bed.  Sleeps 3.    Room 4. 1 queen bed. Sleeps 2. Private full bathroom. Sleeps a total of 5.