Triple Room With 3 Single Beds-Triple Room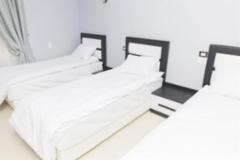 Room Description
Triple rooms are around 42m2 (650 square feet). The rooms  arranged with 3 single beds . Rooms are equipped with safes, hair dryers and telephones and decorated with hand-crafted furniture, locally sourced textiles and unique country details. The bathroom has a separate shower and 1 sink. 
Rooms view is by downtown famous Behler Passage & Kasr Al Nile famous street which it gives you chance to feel Egypt in the way it should be .
Room Amenities
Triple rooms are around 4
hair dryers and telephone
locally sourced textiles
Rooms view is by downtown
View More Room Types
Terms & Conditions
Please,be aware that if you cancelled a reservation paid with credit card, we will be charging a 3.5% banks fees for the total amount for your authorized deposit.