Single room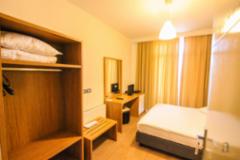 Room Description
Price including breakfast, Free Wi-Fi, Internet Access, TV, Air Conditioning, etc,
No Pets Allowed
Room Amenities
Balcony
Heating
Mountain view
Wardrobe or closet
City view
Shower
TV
Bath
Telephone
Toilet
Satellite Channels
Private Bathroom
Cable Channels
Slippers
Flat-screen TV
Bath or Shower
Air conditioning
Toilet Paper
View More Room Types
Terms & Conditions
Terms & Conditions for agencies shall apply based on the agreement between the agency and the hotel. 
Terms & Conditions for individuals
Free Wi-Fi available.

Free Baby cribs based on availability.

Breakfast is included.

Check in : 14:00 o'clock

Check out: 11:00 o'clock.
In case of late check-out prior to 16:00 o'clock an extra 30% charge of a room tariff per night will be added to your accommodation bill. In case of late check-out after 16:00 o'clock an extra 100% charge of a room tariff per night will be added to your accommodation bill.
A passport or ID card is required on check in.

Minimum age to check in is 18.

Pets are not allowed on this property.

Smoking inside the room is not allowed

Everything that is not mentioned above has an extra charge.

Pre-Payments:
To guarantee your reservation:

in case of credit card payment, the total amount may be held (not collected) any time after booking.
in case of bank transfer or cash the prepayment of full amount is required.

Accepted Credit Cards: Visa/ MasterCard/ Maestro.
Cancellation:

You may cancel free of charge until 7 days before arrival. You will be charged the total price if you cancel in the 7 days before arrival.
Guest's Belongings
Guests are requested to lock the door of their rooms when going out. The Management will not be responsible for any loss / or damage to the - Guest's belongings or any other property from either the hotel room or any other part of the hotel for any cause whatsoever including theft of pilferage.
Damage of property:
The guest will be held responsible for any loss or damage to the hotel property caused by themselves, their guests or any person for whom they are responsible.
Management's Rights
It is agreed that the guest will conduct him/ her self in a respectable manner and will not cause any nuisance or annoyance within the hotel premise.

The Management has the right to request any guest to vacate his/her room or other areas of the hotel forthwith, without previous notice and   without assigning any reason whatsoever, and the guest shall be bound to vacate when requested to do so. In case of the default the Management has the right to remove the Guest luggage and belongings from the room occupied by him / her and inform the local authorities.
THE MANAGEMENT RESERVES THE RIGHT TO ADD TO, OR ALTER OR AMEND ANY OF THE ABOVE TERMS, CONDITIONS AND RULES WITHOUT PRIOR NOTICE.