Fort Events-Venue - Half Day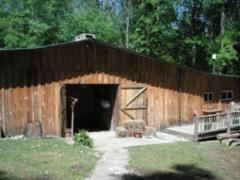 Villa Description
Old Fort Lodge 
Event Venue
(Click on Picture to View More)
The Old Fort Lodge 
Event Venue Half Day

April 15 through November 30
The Fort may accommodate up to 75 people in a sit-down dinner and up to 150 in a buffet line.   For stand up style serve with finger foods you may have up to 225 people.
The minimum fee for use of the Fort is $500 for up to 100 people, then it is $2/person in increments of 10 people or $20, plus any applicable taxes or other state/county fees, NC State Sales tax is 7%.
Rental rates for
Half Day
(about 4 hours) examples:
               Less than or equal to 100 people is $500
**
               Less than or equal to 150 people is $600, ETC
Rental rates for
Whole Day
(about 10 hours) examples:
               Less than or equal to 100 people is $1250
**
               Less than or equal to 150 people is $1350, ETC.
Rental rates for
"After 5" Events
(about 6 hours) examples:
               Less than or equal to 100 people is $850, ETC.
**
The rental fee includes Dining Room, Fort Reception area, bathrooms and yard.  No kitchen privileges are provided.
It is mandatory to rent the Small Room – Fort Up when you reserve the Fort for your event.  If more than 100 people are expected, the rate for the 100 would also include the Small Room Fort Up rental.  This is a small room with a double bed, private bathroom, microwave, coffee maker and refrigerator.  The small room normally rents for $60/night for up to 2 people.
Building is provided in a clean, ready to use operation.
Includes Use of Available:
Chairs and tables, restrooms, stage area and outside lawn
USE OF SOUND SYSTEM   
                               $100/day
USE OF PROPANE HEATERS
                            $100/day
FIREWOOD FOR YOUR EVENT IS SOLD IN BUNDLES AT
                                        $50 EACH

CLEAN UP FEES
Clean up fees for the Fort for up to 100 guests.               $200
If you have more than 100, the total clean-up fee is...     $350
MEALS
To price meals we would need to have an idea of the type of food wanted to be able to provide a per person cost.
For liquor you need to acquire a One Day liquor permit from the county.
ADDITIONAL INFO
Information about local Bands, Photographers and Florists is available upon request.

** THIS BOOKING SOFTWARE IS NOT ALLOWING US TO SHOW THE BOOKING RATE INCLUDES UP TO 100 GUESTS.  PLEASE JUST KNOW THAT IT DOES
Villa Amenities
Party Venue
Stage
Meeting Room
Large Rock Fireplace
Catering Available
Sound System Available fo
Firewood available for ad
Credit Cards Accepted
Parking Available
Lounge
Free Wifi
Bathrooms
Business Services
Conventions
Dining
Farm Ranch
Food Available
Free Parking
Ceiling Fan
High Ceiling
Horse Riding
Fishing
View More Villa Types
Terms & Conditions
Arrowmont Stables & Cabins
CANCELLATION POLICY:      Two weeks or more is needed for cancellation notice and is required for a refund, less a $40 credit card processing fee.  For less than 2 weeks' notice, the full payment is required.  There are no refunds for changes, early departures or late arrivals with less than two weeks notice.  We recommend you purchase Trip Insurance to avoid any possible problems.
Cancellations must be made by writing an email to arrowmontreservations@gmail.com or send a fax to (828) 743-3753. You may call to inquire about a cancellation, but we do need it in writing.  Plus, if you used an online travel site to book, you will need to contact that agency and first cancel your reservation through them.  They do not allow us to do that.  We do not accept cancellations by phone.
OCCUPANCY:        King Vacation cabin standard occupancy is a maximum of 6 people.  Queen Vacation cabin standard occupancy is a maximum of 4 people.    Efficiency unit occupancy is a maximum of 2 people.   These are No Smoking units.
CHECK IN:        You may check-in between 4 PM and 6 PM, Monday through Saturday.  There are no Sunday check-ins.
LATE ARRIVAL:        If you are arriving after 6 PM, please call and we will make arrangements for you to gain entrance to your cabin.
CHECK OUT:        Check-out is at 11 AM except on Sunday.  Sundays have a late check-out of 3 PM.
DEPOSIT:        First night's rate is charged on your credit card for your deposit.   
TAXES:        There are state and local taxes required.  North Carolina Sales Tax is 6.75% and Jackson Co. Travel & Tourism Tax is 4%.
PAYMENT:        You may use Visa, Mastercard, Discover or American Express to secure your reservation and pay your deposit.  Upon arrival, you may pay the balance due with cash or credit cards.
SECURITY DEPOSIT:        A $150 security deposit is required in addition to the cabin deposit.  The security deposit is refunded if your cabin is left in good shape.  Please help keep our rates down by making sure you wash your dishes/pots-pans before leaving.  If our staff is required to clean your kitchen after you leave, a $50 cleaning fee is charged.  Dishes/pots need to be washed to avoid kitchen cleaning fee.
NO SHOW:        The Full cabin/room charge for the full reservation period plus any applicable taxes is charged.
PETS:        We love animals.  But we are just too small to set aside a Vacation Cabin just for pets.  If a pet is found in your cabin, the minimum charge starts at $200 for your pet plus $100 extra for fumigating the unit.  This will be charged to your credit card.