Queen Cabin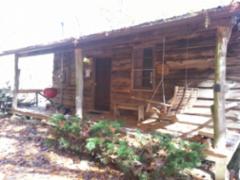 Room Description
Queen Cabin - The Depot
(Click on Picture to see more of this unit)
It has 2 bedrooms, 1 bath, living room, full kitchen and dining area.
This comfortable cabin features a gas log fireplace in the living room.  The cabin has a living room, kitchen, dining area, 2 bedrooms and a full bathroom.  It is on one floor and comfortably sleeps 4.  There are two bedrooms. The master bedroom has a Queen sized bed and the second bedroom has two single beds.  They have soft comforters and firm and soft pillows.
The bathroom has a walk-in shower complete with your soft fluffy cotton towels and personal toiletries to ensure both convenience and pampering.
OVERVIEW QUEEN CABIN

and Area Description
Arrowmont is a 200 acre working horse farm located on top of Cullowhee Mountain. We best serve families who are looking to get away from the stress of city life and want a remote, quiet place to relax... and the horses add their own special charms.  There is a bumpy gravel road that services the various cabins on the farm.

The farm ranges in elevation from 4200 feet at the top of the mountain down to 3400 feet in our picturesque valley.  
Town is about 30 minutes away so you might want to get your groceries in town before climbing the mountain to Arrowmont and your cabin.
Located in a heavily wooded area along a 1.6 mile private gravel road, this cabin features: — 2 Bedrooms — Fully Equipped Kitchenette — Fireplace — DishWasher — Bathroom with Walkin Shower. Please note this cabin includes electricity, baseboard electric heaters, fluffy cotton towels and 300-600 count cotton sheets.
Cabin specification:        Room type: Family Cabin    Max persons: 4    Minimum room size: 650 square feet 
Bed types:        Room 1:  1 Queen-size Bed,  Room 2:  2 Single 
Cabin facilities
Living Room:        Satellite Directv, 1 Sofa, Seating Area, Fireplace, Flat-screen TV, DVD Player, CD Player, Radio, Fan 
Kitchen:        Refrigerator, Microwave, Stove/Oven, Dishwasher, Toaster, Coffee Maker & Filters, Dishes, Silverware, Pots/Pans, Dining area, Dining table - seats 4 
Bathroom:        Walk-in Shower, Toilet, Sink, Hairdryer, Personal soap & toiletries, Fluffy Cotton Towels,
2 Bedrooms:        1 Queen-size Bed and 2 Single Beds, Soft and Firm synthetic pillows, 300-600 count cotton sheets, Carpeted, Alarm clock, Iron, Ironing Facilities, Electric Heating 
Front Porch:        Outdoor picnic area, Barbecue Grill
ACTIVITIES:        Canoeing, Fishing, Horse riding, Hiking, Hay Rides
COMMON AREAS:        Library, Reception area with Fireplace, Stage, Meeting Room. Public Bathroom Facility
FOOD & DRINK:        BBQ Grill Facilities-Free
BUSINESS FACILITIES:        Meeting/banquet facility, Fax/photocopying
MISCELLANEOUS:        Non-smoking rooms
Room Amenities
HOTEL AMENITIES
BAD Cell Reception
200 Acres For Privacy
Horseback Riding on Site
Miles of Hiking Trails
Fishing
Lake Swimming
Majestic Mountain Views
Internet At STABLES
Library in the FORT
Large Rock Fireplace FORT
Meeting Facility in FORT
Cell Reception BAD
Non-Smoking Room
Coffeemaker & Filters
Satellite Directv
Alarm Clock
Fax
Fireplace
Free Calls at STABLES
Hairdryer In Room
Credit Cards Accepted
Extended Stay
Horse Farm
Free Parking
Kitchen/Kitchenette
Late Arrival
Non Smoking
Private Bath
Cabins With A View
Ceiling Fan
BBQ Grill
Picnic Area
Horse Riding
Kids Activities
Games
Meeting Room
Gas Log Fireplace
Full Kitchen
Dishwasher
Private Shower Bath
Air Conditioning
Outdoor Deck
Privacy
BBQ Facilities
View More Room Types
Terms & Conditions
Arrowmont Stables & Cabins
CANCELLATION POLICY:      Two weeks or more is needed for cancellation notice and is required for a refund, less a $40 credit card processing fee.  For less than 2 weeks' notice, the full payment is required.  There are no refunds for changes, early departures or late arrivals with less than two weeks notice.  We recommend you purchase Trip Insurance to avoid any possible problems.
Cancellations must be made by writing an email to arrowmontreservations@gmail.com or send a fax to (828) 743-3753. You may call to inquire about a cancellation, but we do need it in writing.  Plus, if you used an online travel site to book, you will need to contact that agency and first cancel your reservation through them.  They do not allow us to do that.  We do not accept cancellations by phone.
OCCUPANCY:        King Vacation cabin standard occupancy is a maximum of 6 people.  Queen Vacation cabin standard occupancy is a maximum of 4 people.    Efficiency unit occupancy is a maximum of 2 people.   These are No Smoking units.
CHECK IN:        You may check-in between 4 PM and 6 PM, Monday through Saturday.  There are no Sunday check-ins.
LATE ARRIVAL:        If you are arriving after 6 PM, please call and we will make arrangements for you to gain entrance to your cabin.
CHECK OUT:        Check-out is at 11 AM except on Sunday.  Sundays have a late check-out of 3 PM.
DEPOSIT:        First night's rate is charged on your credit card for your deposit.   
TAXES:        There are state and local taxes required.  North Carolina Sales Tax is 6.75% and Jackson Co. Travel & Tourism Tax is 4%.
PAYMENT:        You may use Visa, Mastercard, Discover or American Express to secure your reservation and pay your deposit.  Upon arrival, you may pay the balance due with cash or credit cards.
SECURITY DEPOSIT:        A $150 security deposit is required in addition to the cabin deposit.  The security deposit is refunded if your cabin is left in good shape.  Please help keep our rates down by making sure you wash your dishes/pots-pans before leaving.  If our staff is required to clean your kitchen after you leave, a $50 cleaning fee is charged.  Dishes/pots need to be washed to avoid kitchen cleaning fee.
NO SHOW:        The Full cabin/room charge for the full reservation period plus any applicable taxes is charged.
PETS:        We love animals.  But we are just too small to set aside a Vacation Cabin just for pets.  If a pet is found in your cabin, the minimum charge starts at $200 for your pet plus $100 extra for fumigating the unit.  This will be charged to your credit card.