One Queen Bed, Non-Smoking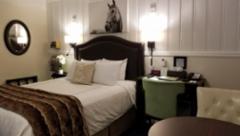 Room Description
ROOM DESCRIPTION (One Queen Bed, Non-Smoking)
Size: 185 sq ft 
Beds: 1 Queen Bed 
Room includes: Complimentary Water Bottle/Snack Basket, Mini-fridge/Microwave, 32" LCD TV, Free Wireless High Speed Internet, Hair Dryer, Alarm Clock, Iron/Ironing Board, Coffee Maker
Room Amenities
One Queen Bed
Free Wi-fi
Coffee Maker
Refrigerator
Microwave
Iron/Ironing Board
Alarm Clock
Hair Dryer
Free Local Calls
Comcast HD TV
View More Room Types
Terms & Conditions
Hotel Policy
THE INN IS 100% NON-SMOKING AND NO PET FACILITY
Early check-in and late check-out is strictly subjected to availability and may be chargeable by the hotel. Any early check-in or late check-out requests must be directed and reconfirmed with hotel directly. A valid form of ID and credit card is required at the time of check-in. All our rooms are Non-Smoking. $250.00 fee will be charged to your bill if you choose to smoke in the room.
CANCELLATION POLICY
Cancel 24 Hours prior to arrival before 6 PM EST to avoid 1 night plus tax. One night's charge - for each room reserved -will be pre-authorized on the card (1) day prior to the arrival date. Cancellation or change request must be made in writing to reservations@amherstinnva.com at least (1) day prior to arrival date. Failure to show will result in 1 night plus tax. There is no refund for early check-out or NO Show. The hotel has the right to pre-authorize up to $250.00 for incidentals.
Minimum Nights - All special events including graduation and holidays require 2 or more minimum nights stay. Minimum nights rules is specified at the time of booking and cannot be altered. Minimum nights reservation is charged in full if not cancelled within specified time. We would kindly like to inform our guests that these rules mentioned are applied even in cases where the reason for the cancellation or change is beyond the control of the guest.
PET POLICY
Pets are not allowed on premises. $250.00 will be charged to your bill if a pet is discovered on premises.