Hover mouse over the calendar for more information.
Altea Beach Lodges is the best place for your Holidays in Albania. Altea Beach Lodges is nestled in the heart of the nature, in the village of Dhermi. This Beach, located  in the South Coast of Albania is one of the most beautiful beaches in Albanian Riviera.  With a property area of 10,000 m², in which under the shades of 54 Olive Tree Crowns are built only 20 Bungalows only 75 meters away from the sea and backed up by alpine mountains, we respect nature and give to every bungalow an ecological space of 500 m². 
 Altea's Private Beach has a surface of 14,000 m² in front of unlimited turquoise water, in which are 20 umbrellas, meaning that every umbrella has an area of 700 m², where guest can enjoy a full privacy and a breathtaking sea view.
Altea Beach Lodges promotes the beautiful nature and eco-tourism in Albania, as well as supports the wellbeing and the employment of the local community. We purchase local food products as well as fresh fish for our restaurant.
This is truly what we want to share with our guest, not just a room but a living style and a 360 degree surroundings of pure nature where mountains meat the limitless sea and where your memories will be plentiful as the beach stones.
A lot of guest find Altea expensive for Albanian Standards, underestimating the fact that the infrastructure of this hotel, starting from sweet water, sewerage system, electric power system, even the local road, were build and are maintained from the hotel management without any support  from  local authorities, municipality and government institutions
Air Conditioning
Restaurant
Bar/Lounge
Currency exchange service
Free parking
Internet Access
Non-smoking rooms/floors
Parking
Beach
Credit Cards Accepted
Dining
Family Rooms
Food Available
Free Internet
Free Wifi
Late Arrival
Non Smoking
Outdoor Deck
Privacy
High speed internet
Free Parking
---
Bungalow Beach View - Standard Rate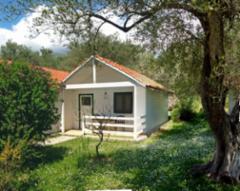 Description
Bungalow Beach View
Bungalow facilities: Balcony, Patio, Sea view, Garden view, Air Conditioning, Extra Beds, Heating, Mosquito net, Wardrobe/Closet, Clothes rack, Shower, Toilet, Bathroom, Refrigerator, Outdoor furniture, Outdoor dining area, Towels, Linen.
email: altealodges@albresorts.com
Room Amenities
Balcony
Sea view
Garden
Air Conditioning
Extra Long Beds
Heating
Mosquito net
Wardrobe/Closet
Clothes rack
Bathroom with Shower
Toilet
Bathroom
Refrigerator
Outdoor furniture
Outdoor dining area
Towels
Linen
Terms & Conditions
Terms and Conditions: Free Wi-Fi available in restaurant and reception area.Free Baby cribs based on availability.Meals are not included.Check in: 14:00 o'clock. Check out: 12:00 o'clock.In case of late check-out prior to 16:00 o'clock an extra 30% charge of a room tariff per night will be added to your accommodation bill. In case of late check-out after 16:00 o'clock an extra 100% charge of a room tariff per night will be added to your accommodation bill. A passport or ID card is required on check in. Minimum age to check in is 18. Pets are not allowed on this property.Smoking inside the room is not allowed.Everything that is not mentioned above has an extra charge.
Pre-Payments: To guarantee your reservation: In case of credit card payment, the total amount may be held (not collected) any time after booking. A valid credit card with sufficient funds is needed to guarantee your reservation. In case of bank transfer, or cash the prepayment of full amount is required. Accepted Credit Cards: Visa/ MasterCard/ Maestro.
Cancellation & No Show Policy:
For Non Refundable Rates you will be charged the total price if you cancel your booking.
All Periods (except July - August)
Cancellations more than 15 days prior0% char to arrival - No charge
Cancellations until 14 days before arrival - 50% of the total price*. 
Cancellations less than 7 days prior to arrival and No Shows – 100%charge
July - August
Cancellations until 30 days before arrival - No Charge.
Cancellations between 30 and 15 days before arrival - 50% charge of the total price*. 
Cancellations less than 15 day prior to arrival and No Shows – 100% charge.
Note:* Bank commissions will be charged
Guest's Belongings
Guests are requested to lock the door of their rooms when going out. The Management will not be responsible for any loss / or damage to the - Guest's belongings or any other property from either the hotel room or any other part of the hotel for any cause whatsoever including theft of pilferage.
Damage of property:
The guest will be held responsible for any loss or damage to the hotel property caused by themselves, their guests or any person for whom they are responsible.
Management's Rights
It is agreed that the guest will conduct him/ her self in a respectable manner and will not cause any nuisance or annoyance within the hotel premises.
The Management has the right to request any guest to vacate his/her room or other areas of the hotel forthwith, without previous notice and   without assigning any reason whatsoever, and the guest shall be bound to vacate when requested to do so. In case of the default the Management has the right to remove the Guest luggage and belongings from the room occupied by him / her and inform the local authorities.
Please Note:
All reservations must be made online, through the website albresorts.com
The above prices are subject of change without any notice
THE MANAGEMENT RESERVES THE RIGHT TO ADD TO, OR ALTER OR AMEND ANY OF THE ABOVE TERMS, CONDITIONS AND RULES WITHOUT PRIOR NOTICE.
Politikat e Hotelit per Altea Beach Lodges 2018
Rregullat dhe kushtet: 
Wi-Fi falas në zonën e recepsionit dhe restorantit.
Krevatët e fëmijëve, falas në bazë të disponueshmërisë.
Në keto çmime nuk është i përfshirë asnjë vakt.
Check-in bëhet në orën 14:00
Check-out bëhet në orën 12:00
Në rast vonese për check-out deri në orën 16:00, klientit do ti faturohet  30% të tarifës së dhomës për natë. 
Në rast vonese për check-out pas orës 16:00, klientit do ti faturohet 100% te tarifës së dhomës per natë.
Gjatë procedurave të check-in klientet janë të detyruar me ligj të paraqiten me një dokument identifikimi, ID ose pasaportë.
Mosha minimale për të bërë check-in është 18 vjec
Kafshët nuk pranohen në amjentet e hotelit.
Ndalohet duhani brenda në dhomë.
Çdo gjë që nuk eshtë përmëndur më sipër ka pagesë ekstra. 
Para-Pagesat: 
Per te garantuar rezervimin :
Ne rast parapagimi me Karte Krediti mund të bllokohet (nuk tërhiqet) e gjithe shume çdo moment pas rezervimit.
Ne rast pagese me transferte bankare dhe Cash duhet parapaguar shuma totale.
Kartat e kreditit të cilat pranohen janë: Visa/MasterCard/ Maestro
Politikat e anullimit dhe mosparaqitjes:
Anullim 15 dite para mberritjes – rimbursim I plote I pageses/depozites*
Anullim me pak se 15 dite para mberritjes - rimbursohet 50% e pageses/depozites se bere.*
Anullim 7 dite para mberritjes si dhe mosparaqitja – Nuk rimbursohet pagesa
Shenim:* Mbahen vetem komisionet bankare.<