Valiant Room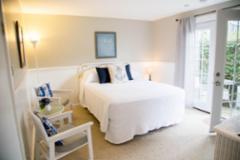 Room Description
If you are searching for a peaceful escape, the Valiant room is perfect room for you. The private balcony is closed off by an ivy covered trellis delivering a tranquil atmosphere for guests to embrace the outdoor beauty of Cape Cod. This room features a queen size bed and en suite bathroom.
Room Amenities
Free Wifi
Private Bath
Air Conditioning
Non Smoking
Free Breakfast
Refrigerator
Free Parking
24/7 dining room access
Coffee
Tea
View More Room Types
Terms & Conditions
CHECK-IN / CHECK OUT
Check-in time is 2:30 pm and check-out time is 10 am.
As a small property, we cannot honor all early check-in requests, but always do our best to accommodate. Please contact us ahead of time so we can make arrangements accordingly. Late check-out requests are subject to availability, and can be honored for an additional fee of $25.
Reservations require a deposit of 50% by credit card charged anytime after the time of booking. All balances must be paid upon arrival at Allen Harbor Inn. Rates subject to change. Self Parking - Free of Charge, maximum of 1 car per reservation.
CANCELLATIONS
With only 10 rooms, The Allen Harbor Inn is a small and intimate property. As such, cancellations of any kind affect us significantly. All cancellations must be received 30 days prior to arrival date for a guaranteed refund, less a $20.00 processing fee.   
If booking was made through a third party, Expedia or Booking.com, cancellation has to be made through them.