Garden Side King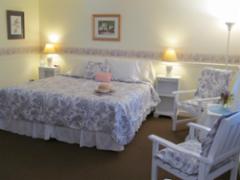 Room Description
Garden Side Rooms with king beds  These comfortable rooms with clean and simple style,
 are perfect for a couple,   or a family with a child can add a rollaway.  Garden Side King rooms can be made up with twin beds upon request for no additional charge. Garden Side King Rooms feature en suite bath with oversize shower, flatscreen cable tv,
air conditioning (seasonal), a small refrigerator, iron and ironing board, hairdryer, and a covered outdoor seating area.
Some Garden Side Rooms adjoin and can be combined to form a family suite with separate rooms for 
adults and children - please call to reserve a family suite or to learn more
Room Amenities
Free Wifi
Private Bath
Air Conditioning (in seas
Non Smoking
Free Breakfast
Adjoining Rooms
Refrigerator in room
Free Parking
24/7 dining room access
coffee
tea
View More Room Types
Terms & Conditions
Our Deposit and Cancellation Policies

Advance Deposit
A deposit is required before the reservation is confirmed:
3 days or less - full stay deposit; 4 or 5 days - 3 days deposit.  A stay of  6 days or more will require a deposit of half of the total stay.
The deposit charge will be placed on your credit card when the reservation is made.

Cancellation Policy
Reservations may be cancelled up until three weeks prior to arrival during summer season,
and two weeks prior to arrival in all other seasons.  There is a 10% service fee for cancellation.
Once the no-cancellation period has begun all deposits are non-refundable. Reservations made within the cancellation period
require a non-refundable credit card deposit. Your deposit is applied to the last night(s) of your stay.

Your balance is due upon arrival. Refunds are not given for early departures.
We accept Visa, Mastercard, Discover and American Express.
Your deposit is refundable only if notice of cancellation is received two weeks prior to arrival date (three weeks from June 23 - Sep 6).
We reserve the right to upgrade your reservation.

We are open from April through October .
Please call ahead to reserve. We do accept some reservations during the off-season months by advance reservation.
Please call ahead to see if we have availability.
508-432-0337