Garden View Rate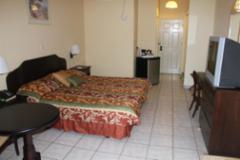 Room Description
After a day on the beach, or exploring the Isle of Spice, sit out on your private balcony with a drink or snack. Watch as the light ebbs from the sky and you listen to the beautiful evensong of a Tropical Mockingbird singing in a nearby tree. A hummingbird may make a last visit to drink the nectar of one of the garden flowers.Tree frogs start their evening chorus as you breathe in the warm breeze, fresh and tinged with the smell of spice. This is the perfect way to relax and plan your next day, or even your evening to come.
If you want to spend your holiday sampling the restaurants and bars of Grenada, then a Garden View Room is for you. Around the Allamanda you are surrounded by a wide range of superb places to sample Grenadian Cuisine. Take a short walk over the road to try breakfast at Grillmaster. Their saltfish and bakes and callaloo are wonderful. Later in the morning they produce mouth-watering rotis (fish, lambi, chicken or mutton). Their Grenadian lunches are delicious, with such local wonders as curried goat or Caribbean Baked Chicken to tempt your tastebuds. Eat it in their back garden with soca on the sound system and gorgeous lizards cavorting over the rocks – what a dream of a lunch!
Room Amenities
Private Bath
Coffee maker
Safe box
Private bath & Shower
Private balcony
Hairdryer
Direct TV
Free WiFi
Air condition & ceiling f
Ironing board
Small refrigerator
Telephone
View More Room Types
Terms & Conditions
Cancellations must be made 
48 hours prior to arrival. If cancellation is made after this period or you are a NO-SHOW, we will then charge your card the equivalent of one night's stay.
Please,be aware that if you cancelled a reservation paid with credit card, we will be charging a 3% banks fees for the total amount for your authorized deposit.