Lodge House 5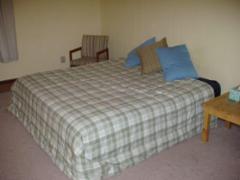 Room Description
This main level bedroom sleeps 2 or parents+child. It has a very large and comfy king bed, and features a ceiling fan, and a window opening onto the east facing front porch. It has access to a restroom just across the the hall; shower use is available on upper and lower levels.
View More Room Types
Terms & Conditions
There is no fee for cancellations made by 6:00PM the day before the reservation.
Cancellations made after 6:00PM the day before the reservation will be charged the price of one night's stay.  However, if for any reason you cannot use the reservation you have made, let us know by 6 pm the night of the reservation, and you can apply those funds to a reservation any time in the future here at Abrams Creek or the Mountaineer Motel (major holiday periods excepted).