Retreat Cottage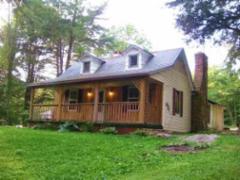 Cottage Description
Two floor cottage, 2 Bedrooms, 1 Bath/Shower, Kitchen, satellite TV, DSL wi-fi, washer/dryer, creek front access.
The Retreat Cottage is a funky old country home, built around 1930; it is not a lace-doily kind of place. Everything is clean, and everything works, but
stylistically it is country hodgepodge, and it shows its age in various places.
It is the kind of place you can be comfortable bringing your friends, kids, or dogs without walking on tiptoes so as not to disturb anything.  If that fits your style, we think you would enjoy it, as well as the beautiful setting next to a whitewater stream.  For people who delight in nature, it can be a deeply satisfying place to be.
Cottage Amenities
2 floors
2 Bedrooms
1 Bath/Shower
Kitchen
Satellite TV
Free wi-fi
Washer/Dryer
Creek front access.
View More Cottage Types
Terms & Conditions
There is no fee for cancellations made by 6:00PM the day before the reservation.
Cancellations made after 6:00PM the day before the reservation will be charged the price of one night's stay.  However, if for any reason you cannot use the reservation you have made, let us know by 6 pm the night of the reservation, and you can apply those funds to a reservation any time in the future here at Abrams Creek or the Mountaineer Motel (major holiday periods excepted).