Campsite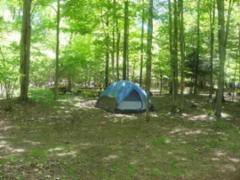 Campsite Description
All our tent sites are shaded on soft, level forest floor. Each has a Fire Ring, Picnic Table, and block-and-board bench.

To reserve a specific campsite please list your first, second, and third choices in the comments section (below, on the right), and we will do our best to accommodate you.
If you are not sure which campsite you want, then let us know in the comments if you have any particular requirements.

Campsite Amenities
Tent Space
Fire Ring
Picnic Table (most sites)
View More Campsite Types
Terms & Conditions
There is no fee for cancellations made by 6:00PM the day before the reservation.
Cancellations made after 6:00PM the day before the reservation will be charged the price of one night's stay.  However, if for any reason you cannot use the reservation you have made, let us know by 6 pm the night of the reservation, and you can apply those funds to a reservation any time in the future here at Abrams Creek or the Mountaineer Motel (major holiday periods excepted).